Forum home
›
Your wedding reports
Our civil partnership February 2020.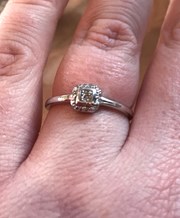 princessmaire1
Posts: 70

It's taken me a little while to get this far and it's going to take me a little while to get any further so please bear with me. 
Anyone who has read my planning thread will know that my beloved dad was terminally ill and had been very unwell at various points of the planning. 
He was guest of honour on the day and he had an amazing day. 
Sadly, at 12.45pm on the 20th of February, five days after the ceremony, he passed away peacefully in hospital. 
I'm dedicating this thread to his memory as we all had such a lovely day and he was so happy. He would be equally as happy for me to recount the happy memories of that day so I'm going to try to do that for him. 
My photography was done by my brother in law so there's no pro photographs yet as he's been too busy comforting my sister but I've told him it takes as long as it does. 
Enjoy the thread everyone. 
*In memory of my dad John*